Course details
Special selection! Frosting horse sting + Kumamoto tango pot & baked goods 9 items [course] ⇒ 3000 yen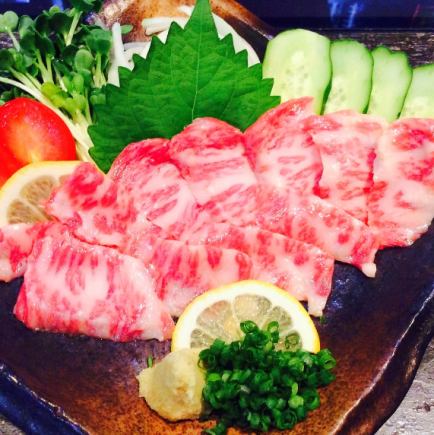 By using a coupon3000 yen
All-you-can-drink for 90 minutes at + 1500 yen! + 120 yen at 2,000 yen for all-you-can-drink!
All-you-can-drink available

90-minute all-you-can-drink
Reservation deadline

Visit of hope the day before until 0:00
Available days for reservation

Monday - Sunday - Public holidays - Holidays
Course menu
- Course content -
Special marbling horse sting
Today's salad
The finest grill!
* Choose garlic butter sauce or black pepper!
Having pot (salt, soy sauce, miso, miso kimchi)
Deadline noodles
dessert
Etc. 9 items
※ The content may change depending on purchase
※ You can choose horse sting or sashimi prime
※ The contents may be changed by purchase.
※ The amount is larger than the normal menu
All-you-can-drink menu
·beer
Asahi Super Dry
·Sake
Male
· Shochu / Makgeolli / Plum wine
· Taste goodwill original rice shochu / sweet shochu / makgeoli
·Whisky
· Black Nikka (water split / lock)
·Highball
High ball / Ginger High / Kokuhai
· Sake High
· Lime, Calpis, Kyoho, lemon, plum, cassis, grapefruit
·Soft drink
· Coke, ginger ale, calpis soda, marbled lamune, oolong tea, Soben beauty tea, calpis, orange, iced coffee / children's beer / nonalco cocktail
·wine
· Glass of wine (red · white) / wine cocktail
- Cocktails
- Non-alcoholic cocktails
2018/08/24 update